Custom Solutions
Sometimes a homeowner may want a staircase that defies categorization. They're looking for a staircase that will stand as a one-of-a-kind expression of their vision for their home. One such custom example is shown below….




Baluster Replacement
A simple update of your baluster can dramatically change the look of your home. Have this as a consideration when thinking about your next remodel.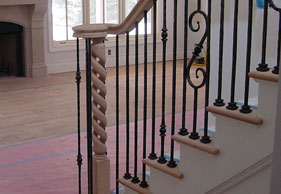 3 Starting Steps to Your New Staircase
---
STEP
1
Choose a Specie of Wood
Some of the more commonly used species include: Red Oak, Maple, Poplar and Yellow Pine. Brazilian Cherry, American Cherry, White Oak, Mahogany, Hickory, Douglas Fir, Black Walnut, Beech, and Ash are examples of some more exotic choices available to you.





---
STEP
2
Choose an Open or Closed Stairway
An Open Staircase has both treads and risers visible from the side of the stair. The treads extend beyond the stringer. A Closed Staircase is one in which the ends of the treads and risers are not visible from the side. They are hidden by a wall or stringer.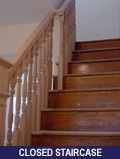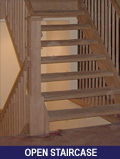 ---
STEP
3
Choose your Railing Series/Collection
This is the style of the handrailing, ballusters/spindles, and posts which best reflects your personal style and the design of your home. Would you like to use wood or wood with iron for your rail system? Are you interested in a Traditional or a Contemporary look? We will be happy to sit down and discuss your design options.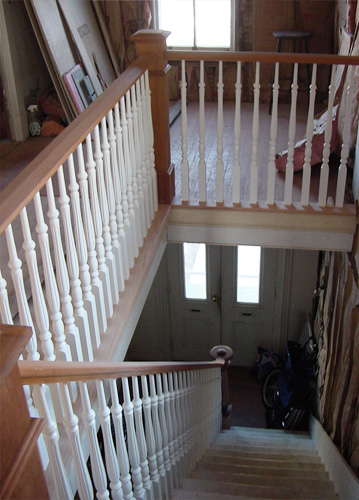 CUSTOM SOLUTION

Rail Restoration for an Historic Home
Capital District Stairs was called upon to duplicate–and to preserve as much as possible–an unsafe and unstable rail from a 120-year-old home. The owners wanted the new railing to be identical to the original railing. They further insisted that some piece of the original railing be incorporated in the final product.