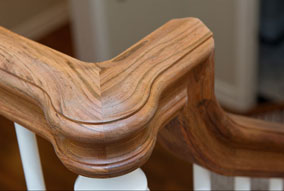 Ready to get to work, but not sure where to start?
Taking the step toward updating your current staircase or working through a new installation, the process and options can be overwhelming. Below are a few frequently asked questions we receive that might be helpful in guiding you to the next steps or best choices for your investment.
---
Please contact us to request a quote. We will set up a time, at your convenience, to go over the work that you would like done and take appropriate measurements. Only after doing that, as well as discussing styles and materials, can we give a fair and accurate estimate.
If you desire to hire Capital District Stairs we will require a 50% advance deposit to reserve our services. The rest of the payment will be due upon completion.
We warranty materials and craftsmanship for one year. This does not apply to damage that is caused by misuse or neglect.
No. We either try to be on the job before you leave for work, or arrange to pick up a key ahead of time. Nonetheless, we do recognize that many people are uncomfortable having unsupervised workmen in their homes. We have never had a problem with our clients but we want you to feel absolutely comfortable when we work for you. You or a representative of your choosing is welcome to be on site.
We are unable to utilize any parts that you may already have on hand. The parts you have may have been made or ordered with a different idea of installation than we have planned. We could not warranty our workmanship if we were to use such parts.
We do not recommend any pre-finish work. Every job involves cutting and fitting. That means we would be sanding and scraping through the finish. This will leave blemishes on the finish. We do offer balusters which have been pre-primed in select styles.

Associations
Capital District Stairs ensures quality and safety by keepoing current with New York State building codes, attending annual conferences and tradeshows and working along side local Contractors, Homeowners, Homebuilders.